I received this book free from Edelweiss in exchange for an honest review. This does not affect my opinion of the book or the content of my review.
Made for Love by Alissa Nutting
Published by Ecco on July 4th 2017
Pages: 320
Genres: Contemporary
Format: eARC
Source: Edelweiss
Amazon | Barnes & Noble | Book Depository | Audible
Goodreads

Also by this author: Tampa


Hazel has just moved into a trailer park of senior citizens, with her father and Diane—his extremely lifelike sex doll—as her roommates. Life with Hazel's father is strained at best, but her only alternative seems even bleaker. She's just run out on her marriage to Byron Gogol, CEO and founder of Gogol Industries, a monolithic corporation hell-bent on making its products and technologies indispensable in daily life. For over a decade, Hazel put up with being veritably quarantined by Byron in the family compound, her every movement and vital sign tracked. But when he demands to wirelessly connect the two of them via brain chips in a first-ever human "mind-meld," Hazel decides what was once merely irritating has become unbearable. The world she escapes into is a far cry from the dry and clinical bubble she's been living in, a world populated with a whole host of deviant oddballs.

As Hazel tries to carve out a new life for herself in this uncharted territory, Byron is using the most sophisticated tools at his disposal to find her and bring her home. His threats become more and more sinister, and Hazel is forced to take drastic measures in order to find a home of her own and free herself from Byron's virtual clutches once and for all.
DNF @ 40%
I knew from having read Tampa that Nutting could come up with some bizarre shit of a storyline that I'd still relish in reading. But I have come to realize with this novel that even I have limits. Made for Love felt like some bizarro Black Mirror parody sort of world where Hazel leaves her husband Byron who wants to implant a mind-meld chip into her brain. We're given a flashback to how they met and it was all such a hilarious spoof on Fifty Shades of Grey and I was completely on board. Even the terribly awkward (but extremely comical) return home to her father where she finds him residing with a real-life sex-doll named Diane. Bizarre, yes. But I was still fully on board. I'm apparently cool with strange science fiction storylines and sex-dolls but I draw the line with strange men attracted to dolphins. Yeah, you read that right. After several chapters of Hazel and her father (and we mustn't forget Diane), we're thrown for a loop when we're introduced to Jasper who, after conning his latest girlfriend into giving him all her money and bailing, experiences a random dolphin attack and finds himself only attracted to dolphins. And describes this attraction in explicit detail. I may never look at a dolphin the same.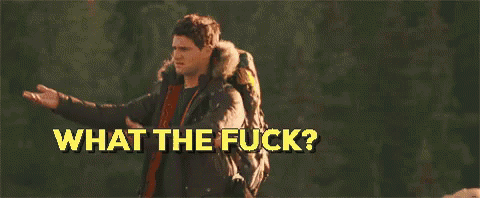 I received this book free from the Publisher in exchange for an honest review. This does not affect my opinion of the book or the content of my review.
A Plague of Giants by Kevin Hearne
Series: Seven Kennings #1
Published by Del Rey Books on October 17th 2017
Pages: 618
Genres: Fantasy
Format: ARC
Source: the Publisher
Amazon | Barnes & Noble | Book Depository | Audible
Goodreads

Also by this author: Hounded, Hammered


In the start of a compelling new series, the New York Times bestselling author of The Iron Druid Chronicles creates an unforgettable fantasy world of warring giants and elemental magic.

In the city of Pelemyn, Fintan the bard takes to the stage to tell what really happened the night the giants came . . .

From the east came the Bone Giants, from the south, the fire-wielding Hathrim - an invasion that sparked war across the six nations of Teldwen. The kingdom's only hope is the discovery of a new form of magic that calls the world's wondrous beasts to fight by the side of humankind.
DNF @ 30%
I really loved the first few installments of Hearne's Iron Druid Chronicles but I called it quits after book four. The humor was still there, the great characters, but it started to feel very repetitive. I heard about a brand new series coming from him and was so ready for a fresh new story. And one about a fantasy world with giants and magic? Oh man, I'm so disappointed this wasn't all I had hoped it to be. The opening was extremely promising, where a bard with magical abilities begins to tell the story of the Bone Giants. He's able to take on the appearance and voice of individuals so most of the first chapters were voiced by a different individual with a different perspective of things ongoing. Around the time when Hearne attempts to merge their storylines together was when he lost me. There were too many characters with obscure names, too many points of view, and too much to keep track off right from the beginning to keep me invested.

I received this book free from the Publisher in exchange for an honest review. This does not affect my opinion of the book or the content of my review.
Shadowless by Hasan Ali Toptaş
Published by Bloomsbury on October 17th 2017
Pages: 320
Genres: Literary Fiction
Format: Hardcover
Source: the Publisher
Amazon | Barnes & Noble | Book Depository
Goodreads



Hasan Ali Toptaş, "the Turkish Kafka", playfully challenges ideas of identity and memory in this surprising and beguiling novel.

In an Anatolian village forgotten by both God and the government, the muhtar has been elected leader for the sixteenth successive year. When he drunkenly staggers to bed that night, the village is prospering. But when he awakes to discover that Nuri, the barber, has disappeared in the dead of night, the community begins to fracture. In a nameless town far, far away, Nuri walks into a barbershop, not knowing how he has arrived. Blurring the lines of reality to terrific effect, this novel is both a compelling mystery and an enduring evocation of displacement.
DNF @ 15%
I typically stick with a pretty concrete set of genres because literary fiction and I so rarely get along. Sometimes I really try to push myself out of my comfort zone, hoping to find some diamond in the rough that will inevitably encourage me to venture outside that zone more often. This is one of those out of my comfort zone picks. Unfortunately, this is not encouraging me to pick up more literary fiction but instead to stay securely comfortable in the genres that I consistently love.
I never quite understood what was going on because it was this strange blend of literary fiction and magical realism, except I guess it's supposed to be real but honestly, I don't even know. I'm sure there is some beauty to a story such as this but when "his ears grew larger than soup ladles", the broom suddenly had a voice, walls shivered at his touch, and his hair grew back immediately after being cut I just knew this was unfortunately not the book for me.